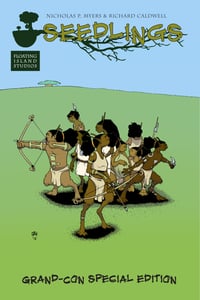 $

1.00
Here is a the digital copy of Seedings #1. There will only be 30 printed, special edition copies available at Grand-Con in Grand Rapids, Michigan. 23 pages of comic with multiple extras in the book. At the completion of the series, all 3 books will be available in print.
This book was created by Richard Caldwell and Nicholas Myers, with Richard on the words and Nicholas on the art.
The story follows a group of young men and women fleeing from disaster, with theirs, and their tribes, only hope encased in a single seed. They must make this journey, unguided, both in material and spiritual.